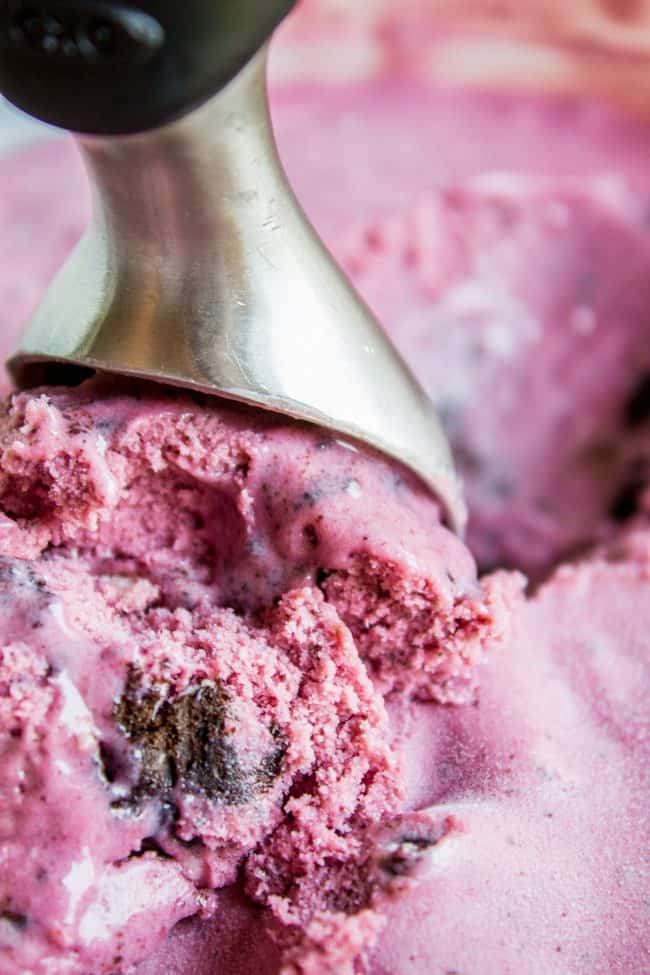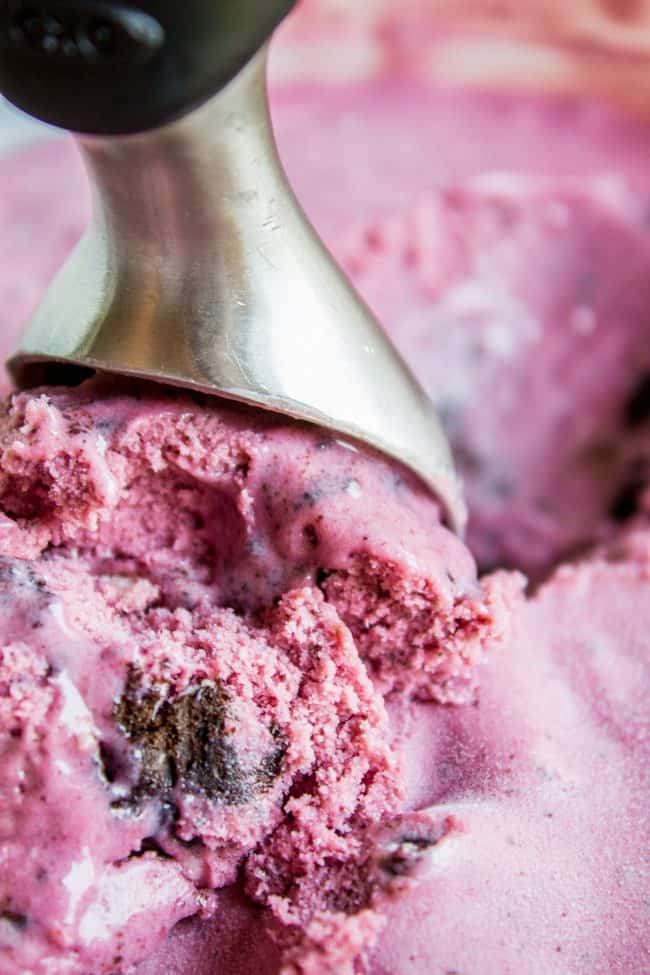 Did you make this recipe?
Leave a review »
Black Raspberry Oreo Ice Cream
1/2 gallon
adjust servings
Ingredients
1

and 1/2 cups half and half

1

cup heavy cream

1/3

cup + 1 tablespoon sugar

1/4

teaspoon salt

4

egg yolks

3/4

cup seedless black raspberry jam

20-25

Oreos, coarsely shopped

ice (for freezing)

rock salt (for freezing)
Instructions
In a medium saucepan, combine half and half and heavy cream. (This is the same thing as whipping cream). Turn the heat to medium low and stir occasionally until it reaches a low simmer. The edges will start bubbling lightly.
Meanwhile, in a medium bowl, whisk together the sugar, salt, and 4 egg yolks.
When the cream mixture has reached a light simmer, carefully temper the eggs by whisking the egg yolks constantly while SLOWLY pouring in the hot cream. Continue whisking until about half of the cream has been added. Place the saucepan back over the burner and add the bowl of tempered egg yolks to the pot. You are taking this step to make sure you don't curdle your eggs.
Heat the mixture over medium low heat, stirring constantly. Do not boil. Stir for about 5 minutes, until the mixture thickens and coats the back of a spoon. At this point, if you notice any small curdles in your custard, you can strain it through a fine mesh strainer. I didn't bother and it still turned out great.
Remove from heat and stir in the black raspberry jam until it is smooth.
Press the top of the custard with plastic wrap. Make sure the plastic wrap is touching the custard, otherwise it will form a film on top as it cools.
Refrigerate until completely chilled, 2-3 hours.
When the custard is chilled, churn it in an ice cream maker according to the instructions for your machine. (I just use the old fashioned kind that you need rock salt and ice for, but you can use whatever kind of machine you have.)
Meanwhile, coarsely chop the Oreos. I like BIG chunks of Oreo in my ice cream, so I did most of them chopped into quarters. I left come just chopped in half, and did a few chopped pretty fine, to get a good mixture. See photo.
Once the ice cream has frozen in the machine, it should be soft serve consistency. If there is room in your ice cream maker, stir the Oreos in, if not, then you will have to transfer to another large bowl to stir in the Oreos.
Place the ice cream in a large tupperware or pan with a lid. You will have about a half gallon of ice cream. Make sure it is sealed well and freeze for 3 hours, until completely frozen.
You can eat this right away once it's frozen, but if you like your Oreos to be as soft as the Cookies and Cream ice cream you buy at the store, you will have to wait another 48-72 hours. If you eat it as soon as it's frozen, the Oreos will still be slightly crunchy. Which is delicious, but I also love it after it's frozen for a couple days and has the soft Oreo consistency.
by The Food Charlatan