Biscoff Stuffed White Chocolate Chip Cookies
Yesterday I was sitting on the couch when all the sudden I feel something on my foot.  I look down to see Charlotte sucking on my big toe, which is painted sparkly gold, and apparently looks like shiny treasure to an 11 month old.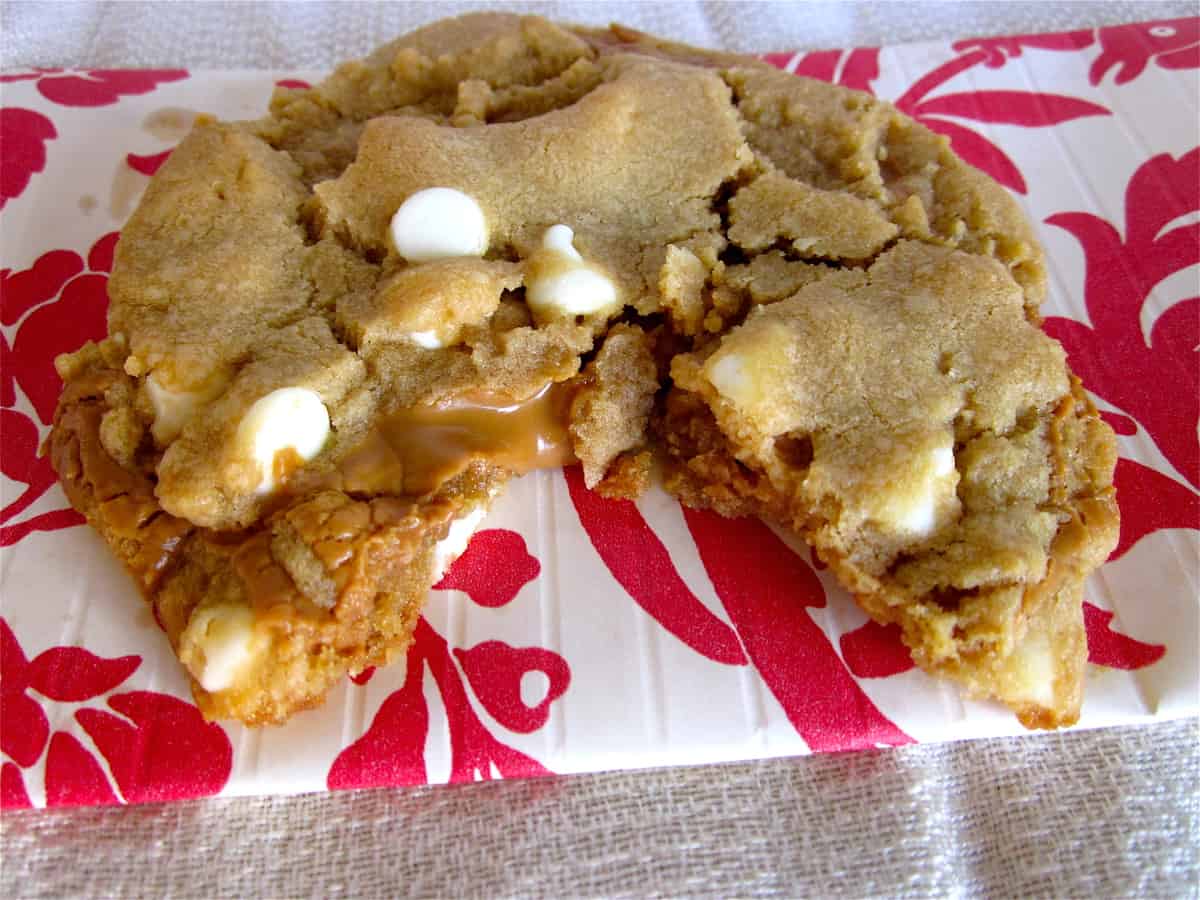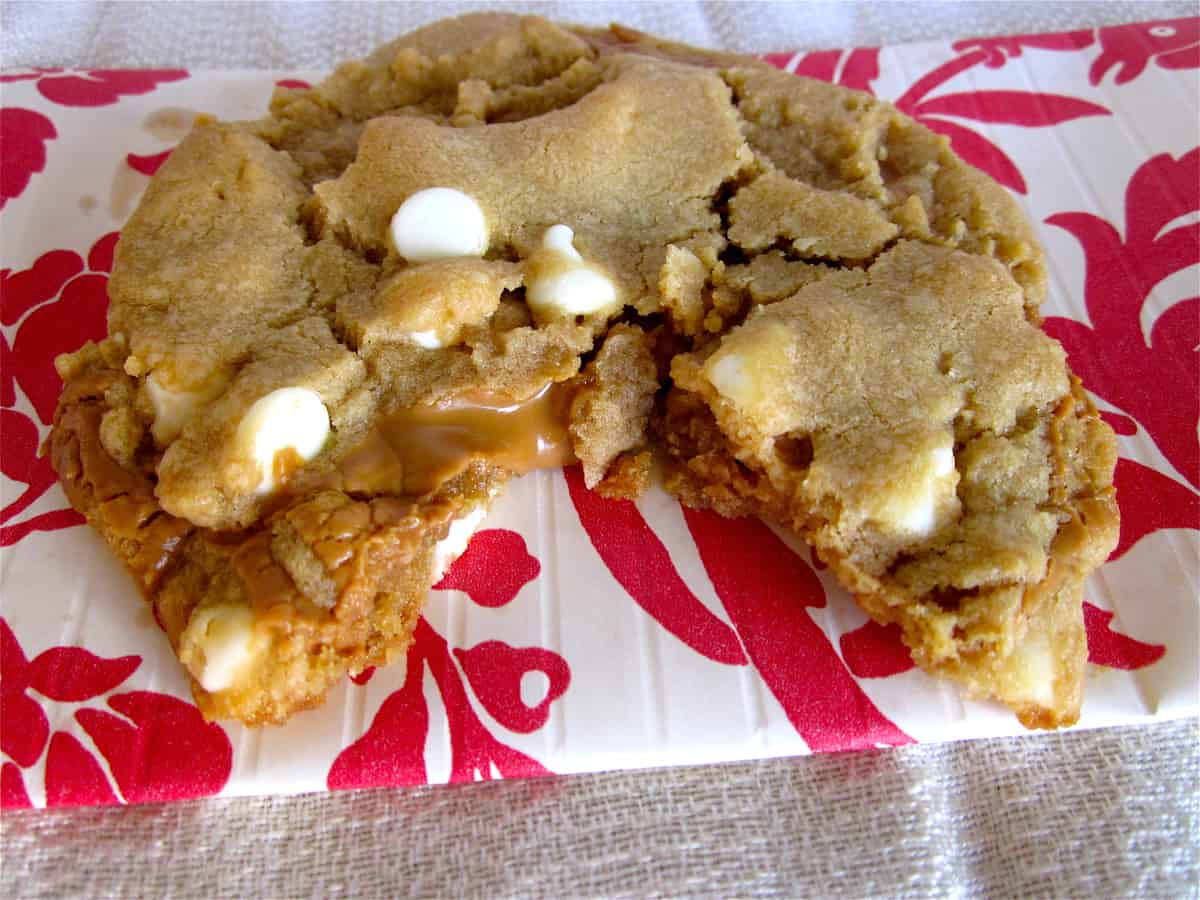 So I don't know if you've heard, but Biscoff spread is the new kid on the block.  You're not sure if he's actually as amazing as he seems, or if he's just new and therefore interesting.  Or maybe you like him because you didn't see him picking his nose back in kindergarten like all the other boys you grew up with.
I am here to tell you that this kid is the real deal.  He's got the hair.  The eyes.  That crooked grin.  Or rather: the smooth creamy texture. The kick of ginger. The need for a tall glass of milk. I'm telling you, Biscoff spread is good stuff.  It is basically like a cookie turned into peanut butter, except not as healthy.  At least nuts have protein.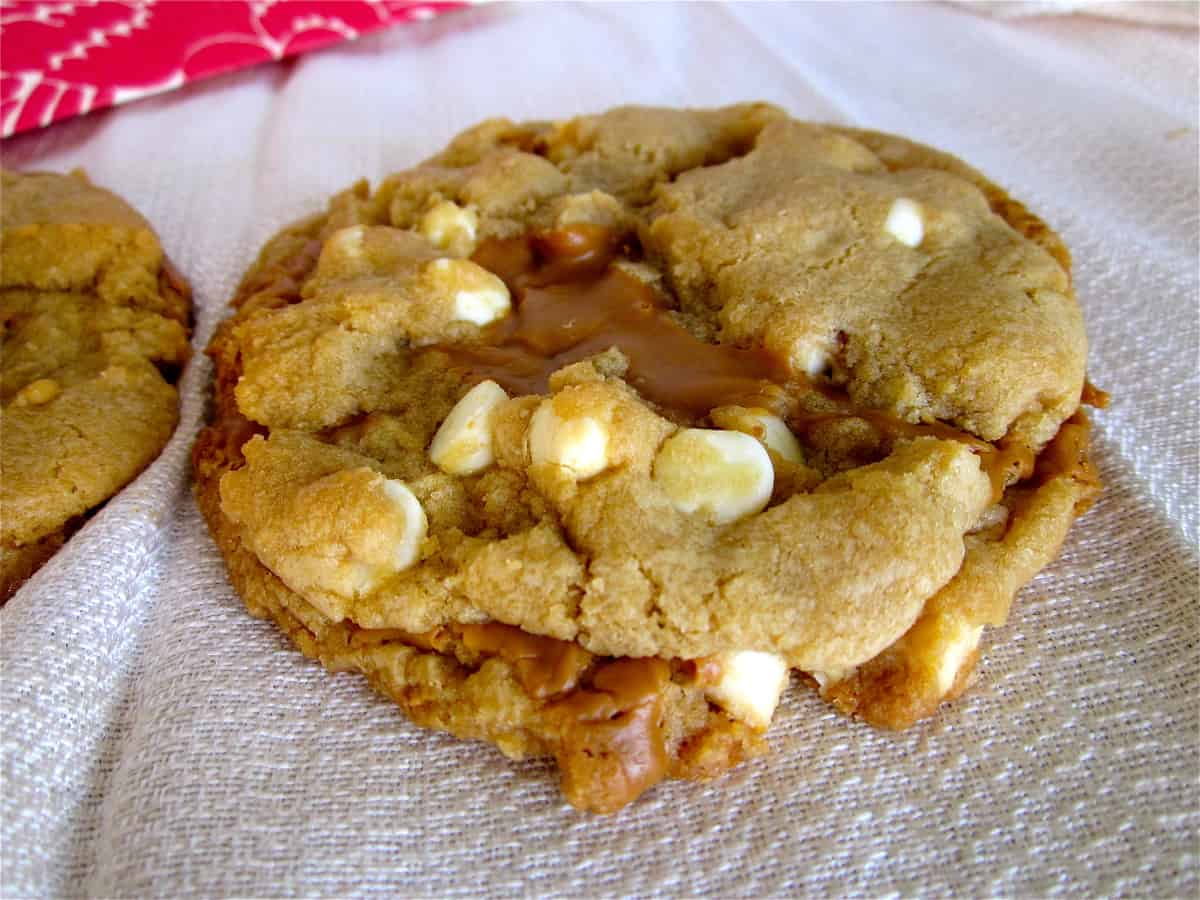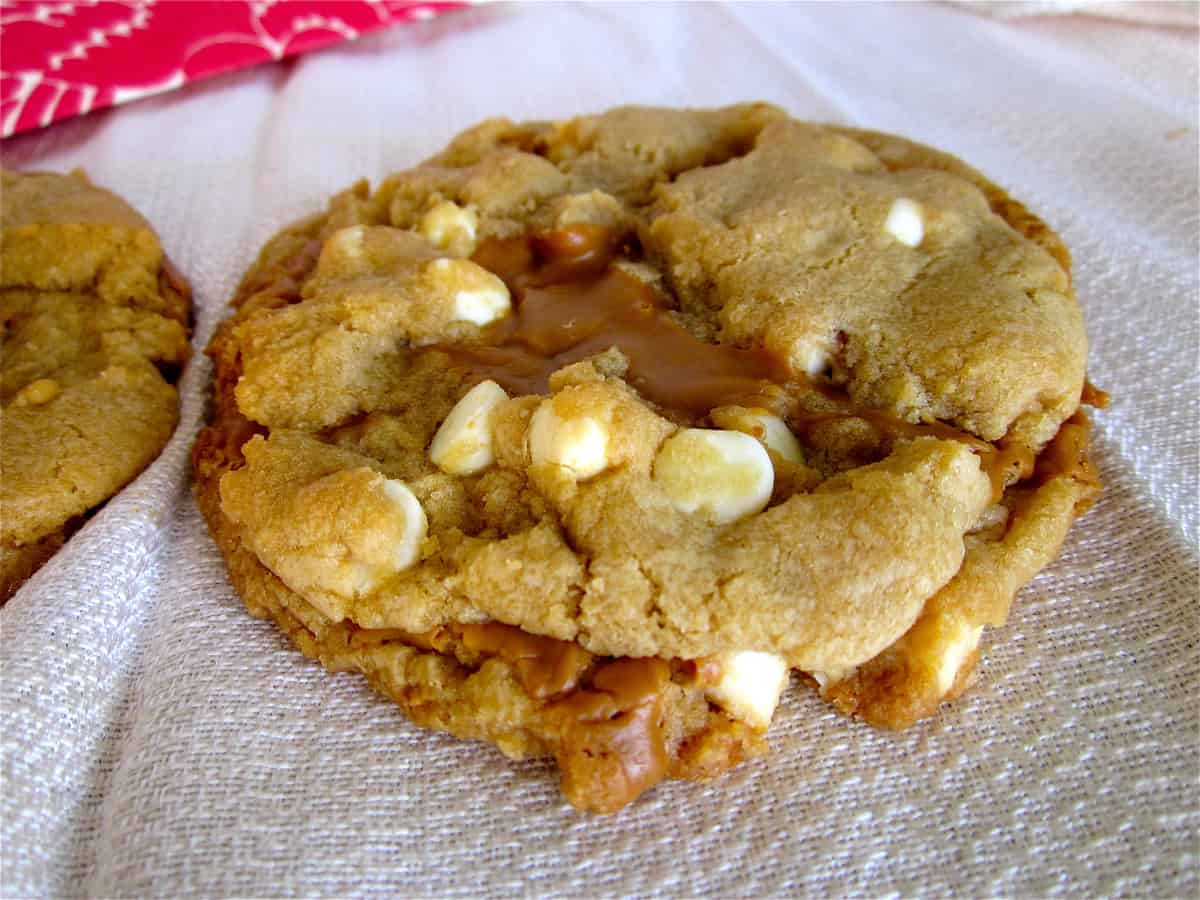 At my old job, our coffee supplier used to give me a couple of Biscoff cookies every time they brought us a shipment. Kind of like giving a dog a treat. But I didn't care. I hoarded them. When I learned that they made these cookies into a spread, the question was when I was going to get it, not if.  Unfortunately you can't find it everywhere so you might have to get it online.
Check your local stores though. I was pleased to discover that my very own Winco carries the stuff.  I bought it on the spot, even though I had already asked my parents to buy me some online for Christmas.  I can eat this stuff with a spoon, so I wasn't worried about using it.
I was feeling much goodwill toward my fellow man that day, and think I may have had one foot on cloud 9.  I went up to customer service after I bought it and told the clerk I wanted to file a compliment. Blank stare. I waved around the Biscoff spread: No one carries this! No one! You have to buy it online! Blank stare.
I guess I don't blame her. How often do freaks come to the customer service desk to file a compliment? At least I refrained from sucking on her big toe.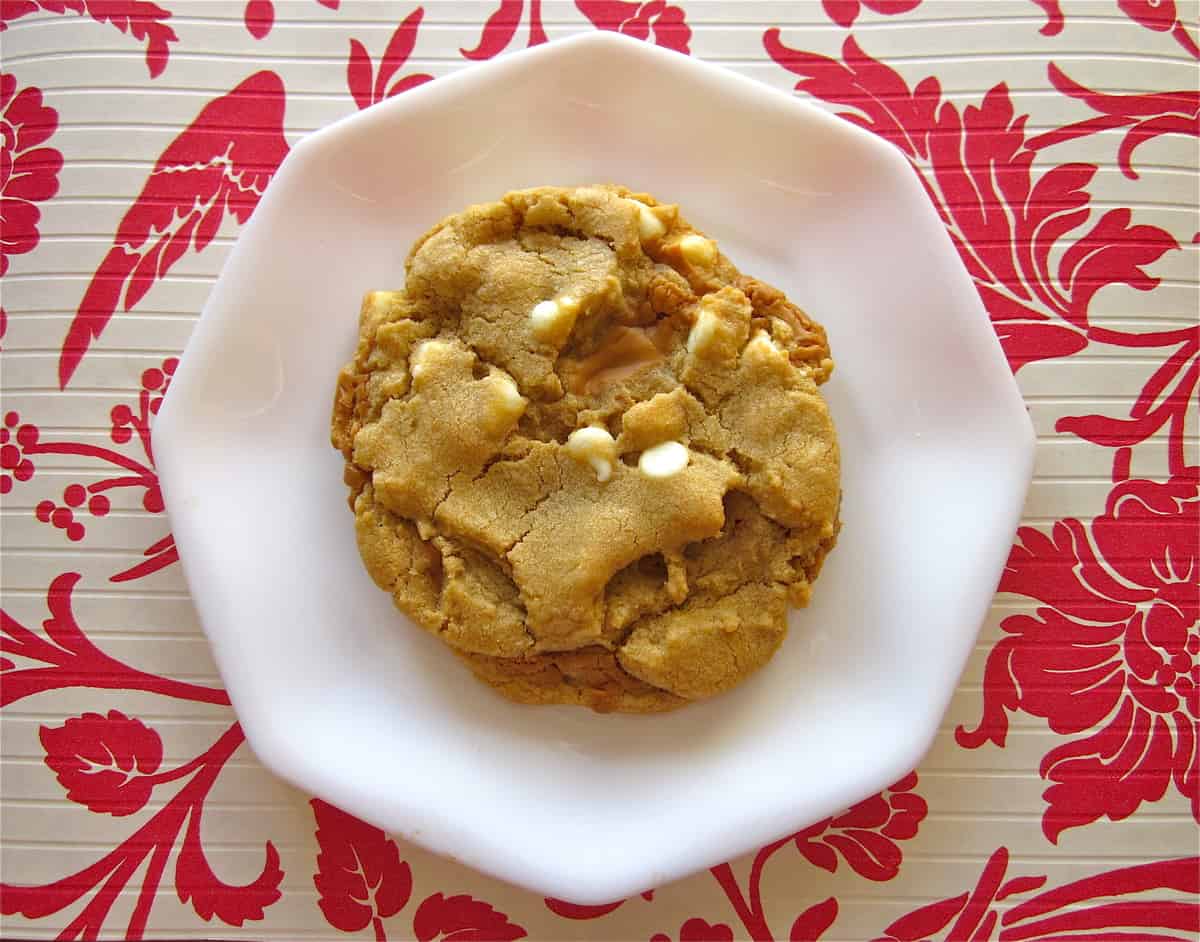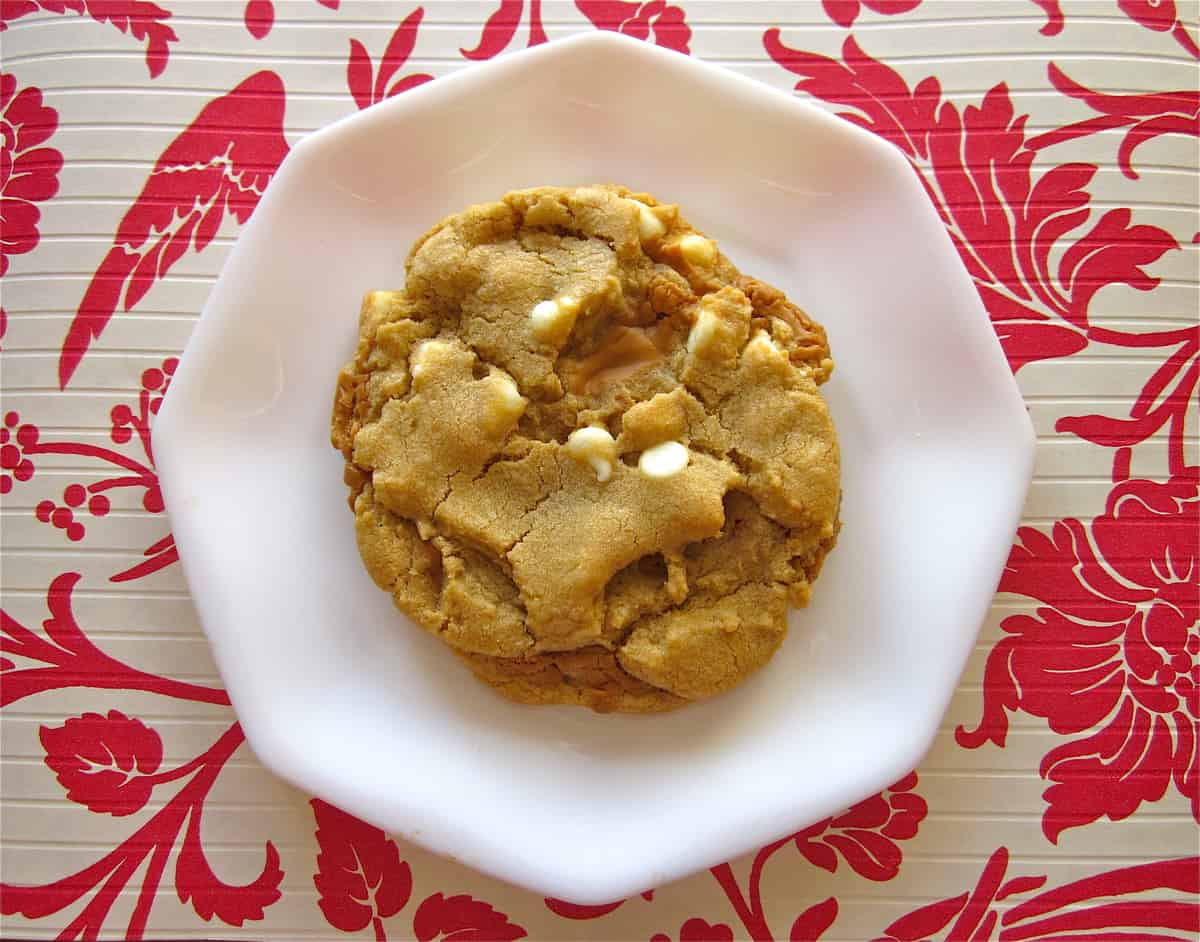 Biscoff Stuffed White Chocolate Chip Cookies
Source: Picky Palate
2 sticks unsalted butter, softened
1 cup granulated sugar
1 cup packed light brown sugar
2 large eggs
1 tablespoon pure vanilla extract
4 cups all purpose flour
1 teaspoon baking soda
1 teaspoon salt
2 1/2 cups white chocolate chips
2 cups Biscoff Spread
Preheat oven to 350 degrees and line a large baking sheet with a silpat liner or parchment paper.
In a stand or electric mixer, beat butter and sugars until well combined. Add eggs and vanilla beating until well combined.
Place flour, baking soda and salt into a large mixing bowl. Stir to combine. Slowly add to wet ingredients along with white chips until just combined.
With a medium cookie scoop, scoop dough onto prepared baking sheet about 2 inches apart. With your thumb, press into each cookie making a little well for the Biscoff. Using a small cookie scoop, scoop about 1 tablespoon Biscoff into each pressed cookie. Place another scoop of cookie dough on top and press edges gently. Biscoff will not be completly enclosed and will be visible around edges. (I flattened out both the top and the bottom scoops before adding the Biscoff, then roughly sealed the edges. Otherwise it just oozed out.)
Bake for 12-15 minutes, until edges are just golden brown. Let cool for 10 minutes on baking sheet then transfer to a cooling rack to cool completely.
We are a participant in the Amazon Services LLC Associates Program, an affiliate advertising program designed to provide a means for us to earn fees by linking to Amazon.com and affiliated sites.