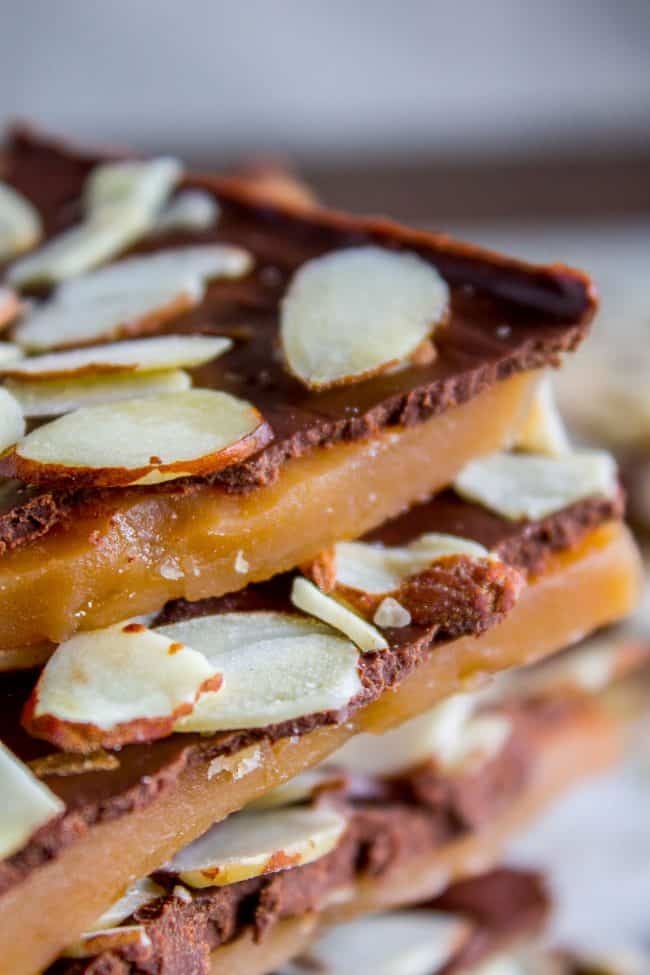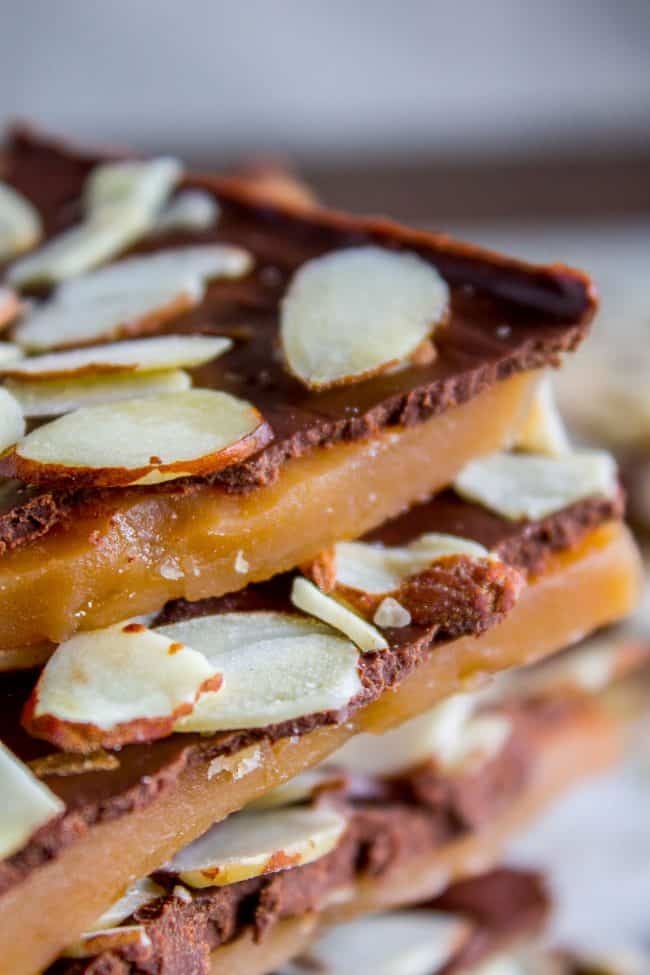 Did you make this recipe?
Leave a review »
The Best Homemade English Toffee
25 pieces
adjust servings
Ingredients
1

and 1/2 cups salted butter (3 sticks)

1/4

cup + 2 tablespoons water

1

and 1/2 cups granulated sugar

3/4

teaspoon salt

2

and 1/2 cups semisweet chocolate chips

1

and 1/2 to 2 cups sliced almonds*
Instructions
Start by coating an 11x17 inch baking pan with nonstick spray. Or use your fingers to coat it with a bit of butter. You can use parchment paper if you want but I actually found that it wasn't necessary.
Add the 1 and 1/2 cups butter to a HEAVY 3 quart saucepan. (You need good quality pots for candy-making.)
Melt the butter over medium heat until almost melted, then add the water, sugar, and salt. Be sure to add the sugar to the CENTER of the melted butter (see photo). Don't let the sugar touch the edges. If you have even just a few granules of sugar on the edge of the pot, it could crystalize the whole pot of candy, meaning that your mixture will not get hot enough to reach the hard crack stage, which is what you need for toffee.**
Turn the heat up to medium high and get yourself a long sturdy wooden spoon. You're going to have to stir for the next 10 minutes or so, so gear up. If you skipped the greasing the pan step before, you lose 10 preparation points. Because now you have to stir. Get someone else to prep the pan. (Or do it VERY quickly in between stirs!)
Stir for about 10 minutes. If you have a candy thermometer, attach it to the edge of your pot, but even if you have one, I would still get out a jar of peanut butter and set it next to the stove with the lid off to see what color it is. When the candy reaches the color of peanut butter, it is ready to be poured into the pan. (There is NO peanut butter in this recipe!! Don't add it to the pot! You just want the color!)
I tested this recipe with and without a candy thermometer, and my toffee looked like peanut butter at about 285-290 degrees F. Hard crack stage is 300 degrees, and you can certainly go that high if you want. See, there is wiggle room, even in candy recipes! I would rely more on the color of the toffee though. The peanut butter trick really does work great.
Remove the pot from the stove and QUICKLY pour it into the prepared pan, scraping the edges. Use a spatula to spread it out as soon as possible. You don't need to go to the edges of the pan, although you can.
Immediately sprinkle the top of the toffee with 2 cups of chocolate chips. Use your judgement to see if you want to add another 1/2 cup. I'm kind of a chocolate addict so...
Wait 4-5 minutes for the chocoalte chips to melt. If you were too slow and your chocolate isn't melting, then stick it in the oven at 350 for 2-3 minutes, or however long it takes to get the chocolate chips just barely melted. Then use an offset spatula to spread the chocolate to the edges of the toffee.
Sprinkle right away with sliced almonds. You can use your hands to gently press the almonds in; whichever ones are not touching melty chocolate are just going to fall right off.
Let the pan cool for 1-2 hours. You can speed this up by sticking it in the fridge, but if you do this will MUST wait until the toffee returns to room temperature before breaking it up, otherwise it will be too brittle and just break into sad toffee crumbs.
Once the chocolate is completely set, break up the pan. You can lift up the edge of the whole sheet of toffee and break it up, or use a butter knife to help you make cuts (although once you get started, it really does work better to break up with your hands. Snap off pieces to your heart's content. It's so satisfying.)
Store in a ziplock or tupperware on the counter. Try not to eat it all at once.
by The Food Charlatan