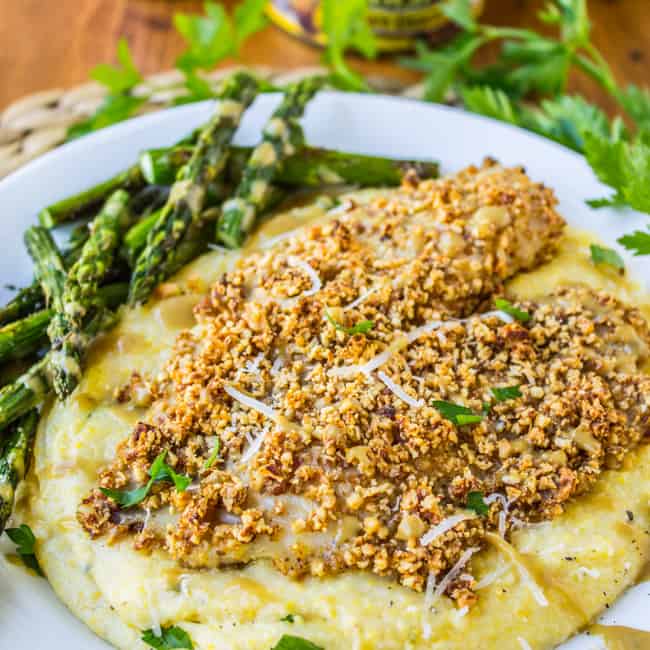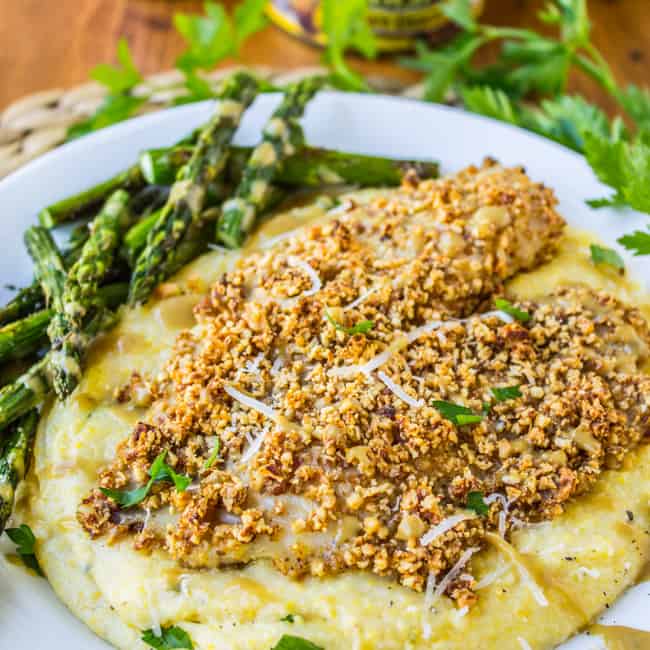 Did you make this recipe?
Leave a review »
Almond-Crusted Honey Dijon Tilapia with Creamy Polenta
Serves 2-4
adjust servings
Ingredients
For the tilapia
4 6-oz

tilapia filets, patted dry

salt and pepper

2

tablespoons flour

1

egg

2

teaspoons dijon mustard

1

tablespoon honey

1

tablespoon water

1

cup Blue Diamond Honey Dijon Almonds

1/2

cup parmesan cheese, shredded
For the polenta
For the Honey Mustard sauce
Instructions
Preheat your oven to 400 degrees F.
Lay out the tilapia on a dry work surface, and sprinkle with salt and pepper. Sprinkle with 1 tablespoon flour, then flip them over and repeat with more salt and pepper and the last tablespoon of flour.
In a shallow plate or pie plate, combine 1 egg, 2 teaspoons dijon, 1 tablespoon honey, and 1 tablespoon water. Whisk well.
In a food processor, add 1 cup Honey Dijon Almonds. Pulse until ground, see photos. Add the 1/ cup grated parmesan cheese and pulse to combine with the nuts. Add the nut mixture to another pie plate or shallow dish.
Dip each filet into the egg mixture. Then dip it in the nut mixture, pressing gently. Make sure all of the fish gets coated.
Coat a baking sheet with nonstick spray and place the fish on it in a single layer. Bake at 400 for 12-14 minutes or until browning on top and the fish flakes with a fork.
Meanwhile, in a medium saucepan bring 2 and 2/3 cup chicken broth and 1/2 teaspoon dry mustard to a boil. Slowly whisk in the polenta. Turn the heat down to low.
Whisk every couple minutes for about 20 minutes, or until the polenta has started to thicken. Add the parmesan, oregano, 1/4 teaspoon salt, and cream. Don't let your polenta sit too long before serving, because it will start to harden as it cools. If the tilapia isn't ready, leave the burner on low and stir every couple minutes.
While the polenta cooks, add 1/3 cup dijon, Worcestershire, thyme, and vinegar to a small sauce pan. Stir together and cook until hot.
Serve the tilapia over the polenta, and drizzle the sauce over the top.
by The Food Charlatan