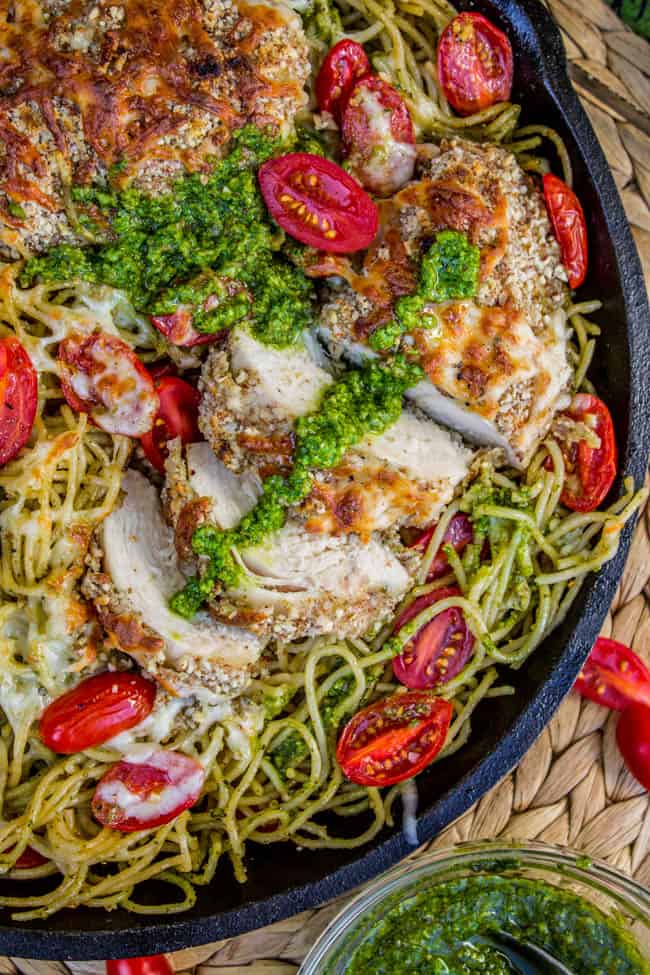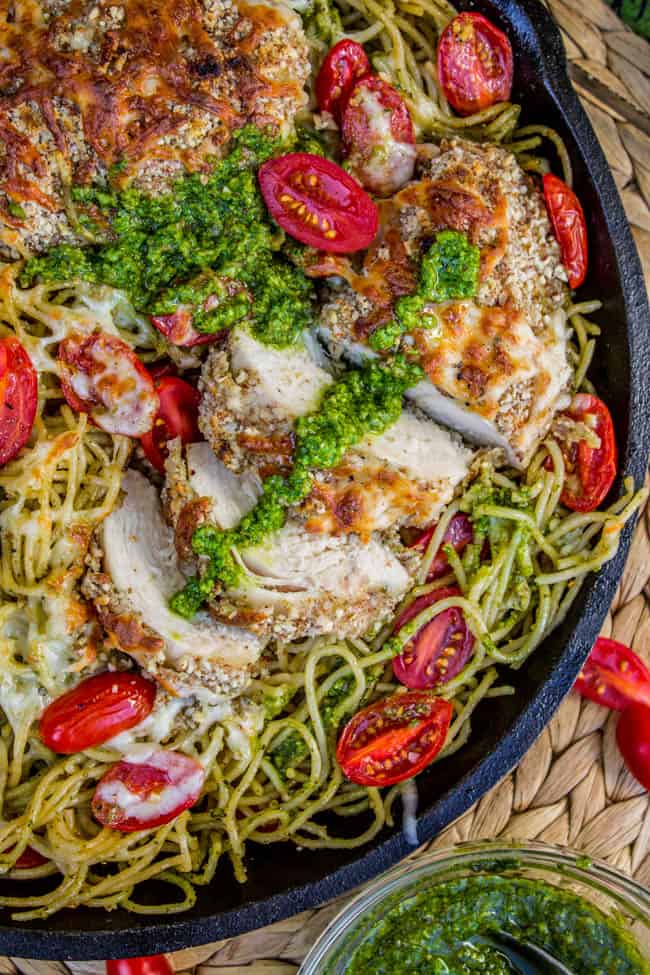 Did you make this recipe?
Leave a review »
Almond-Crusted Chicken with Homemade Pesto Pasta
Serves 4-6
adjust servings
Ingredients
For the almond crust
For the almond pesto
2

cups fresh basil

2

cloves garlic

1/4

cup Whole Natural Blue Diamond Almonds

1/2

cup Parmesan, shredded

1/2

cup olive oil

salt to taste (remember how salty parmesan is; taste first)
For egg wash
For the chicken
4

chicken breasts

salt and pepper

1

tablespoon flour
For the pasta
1

pound spaghetti

1/2

cup of the pesto you just made

1/4

cup (half stick) butter

1

teaspoon salt

pepper to taste

1/2

or 1 cup Pepper Jack cheese, shredded

1

and 1/2 cups cherry tomatoes

1/2

cup Pepper Jack cheese, shredded (to top)
Instructions
Line a baking sheet with aluminum foil and spray with nonstick spray. Set aside. Preheat oven to 375 degrees F.
Start by making the almond crust for the chicken. In a food processor, combine 1 cup almonds, 1/2 teaspoon salt, garlic powder, and pepper to taste. Pulse until the almonds are ground fine (see photo). Remove the nut mixture to a plate and set aside.
Make the pesto: In the same food processor (don't bother washing), combine basil, garlic, almonds, and parmesan. Pulse until it makes a paste, then slowly add the oil in WHILE the food processor is running, so that the oil emulsifies. Salt to taste.
Add 1 tablespoon of the pesto to a shallow bowl or plate. Add an egg and beat together with a fork.
Prep the chicken: Pat chicken dry with paper towels and lay them out on a plate or work surface. Sprinkle both sides with salt and pepper. Sprinkle both sides with 1 tablespoon flour.
Add 1 chicken breast to the egg-pesto mixture and turn to coat. Lift it out, letting the excess egg drip off, then roll the chicken in the nut mixture. Place the chicken on the baking sheet.
Repeat with the remaining chicken.
Bake the chicken in the oven at 375 for about 25-30 minutes, or until a thermometer reads 160 degrees F. (The nut crust will not change color much, fyi.)
Meanwhile, make the pasta. Cook spaghetti according to package directions. Drain well and return to pot.
While the pasta is still hot, add 1/2 pesto, butter, 1 teaspoon salt, pepper, and Pepper Jack cheese. Add cherry tomatoes and stir.
Transfer the pasta to a casserole dish. Top with cooked chicken. Sprinkle with 1/2 cup Pepper Jack.
Broil on the top rack for 2-4 minutes. Do NOT walk away! How sad would it be to burn your dinner after all that. Watch it! Don't leave! Set a timer! Take it out when the cheese is brown and bubbly.
Serve with leftover pesto.
by The Food Charlatan