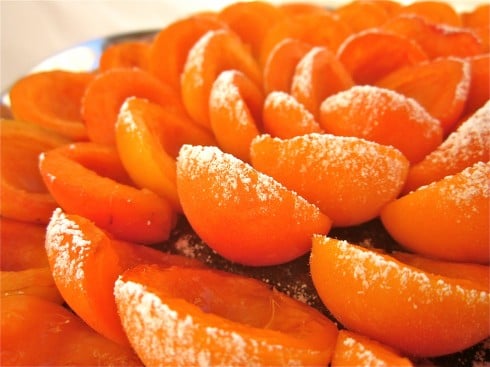 Mmm look at them apricots. Don't you just love summer? We had an apricot tree growing up and I have many fond memories of throwing the rotten ones over the back fence at passing cars of picking and eating these fabulous fruits.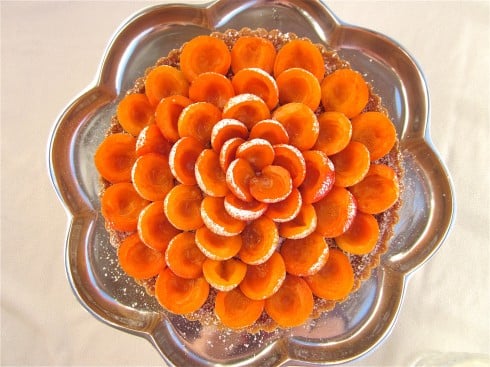 Strangely enough though, my favorite apricot memory comes from a cookie. A fig newton that had apricot instead of figs. Disgusting, right? Who likes fig newtons? Which is exactly why we had several of them sitting at the bottom of our cookie jar one day when I was in high school. They had probably been there since before time began. There was always a crusty layer of hardened cookies at the bottom of our cookie jar growing up. (Reject cookies. My mom bought us nasty apricot-newtons, what can you expect?)
Well on this particular day my brother's friend Nick happened to be at our house for breakfast in the time between seminary and school. Nick was the kind of teenage boy who ate like a machine (you know the ones). He had a habit of emptying our bottom layer of crusty cookies into a bowl, pouring milk on top, and eating it like cereal. Just like Cookie Crisp, right? he would say.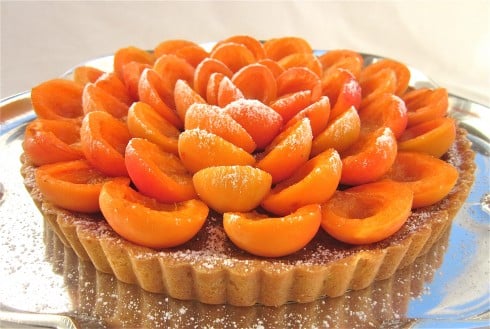 On this day though, there was one formidable looking apricot newton that even Nick wouldn't pour milk over. It was hard as a rock. So naturally he took it off to school with him. He and my brother gave it to one of their unsuspecting friends. Of course the kid nearly broke his teeth on it, so in true teenage boy fashion the friend threw the cookie with all his might in the opposite direction. It actually dented the locker it collided with. I think we all know the moral of the story here. Don't ever buy fig newtons. Ever.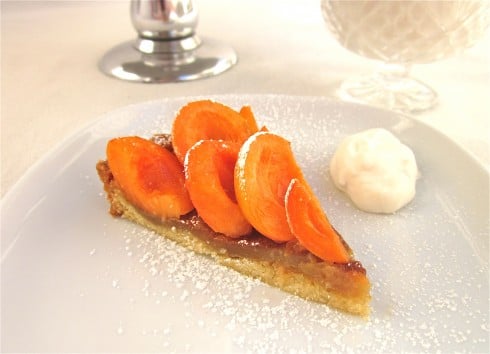 This tart is so so good. I will be honest, apricots are not my favorite fruit of all time, but I still absolutely love this tart. Almonds and apricots mesh very well. The crust is good enough to eat by itself. I will admit that it is a little time consuming, but honestly did not take as long as I was expecting. It would be great for making ahead of time for company. If you don't love apricots, try it with a different fruit on top. I think raspberries would be delicious.
Almond-Apricot Tart with Whipped Cream

Source: very slightly adapted from Martha Stewart
For the Crust
3/4 cup all-purpose flour
1/4 cup blanched almonds, toasted
4 tablespoons unsalted butter, softened*
1/3 cup powdered sugar
1 large egg yolk
Salt
For the Filling
6 tablespoons unsalted butter*
5 large egg yolks
1/4 cup plus 2 tablespoons light corn syrup
3 tablespoons light-brown sugar (dark is fine)
1 teaspoon almond extract
3 tablespoons heavy cream
1 1/2 teaspoons pure vanilla extract
For the Topping
2 pounds baby apricots, halved and pitted
Garnish: powdered sugar
2 cups heavy cream**
1/4 cup powdered sugar
1/2 teaspoon vanilla
Make the crust: To toast the almonds, spread 1/4 cup of almonds on an ungreased baking sheet. Bake at 350˚ for 8-10 minutes, stirring every 2 minutes. Keep a close eye on them. Remove from the oven when they are fragrant and just very slightly beginning to golden. Remove from the baking sheet immediately so that they stop cooking.
Pulse flour and almonds in a food processor until ground. Beat butter and powdered sugar with a mixer on medium speed until pale and fluffy, about 5 minutes. Add flour mixture, yolk, and a pinch of salt; mix until dough comes together. Press into bottom and up sides of a 9-inch tart pan with a removable bottom. Make sure you press the dough to the very top of the pan (see below). Refrigerate for 1 hour.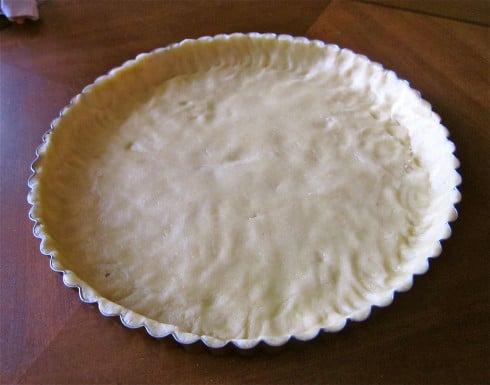 Preheat oven to 325 degrees. Make the filling: Heat butter in a saucepan over medium-low heat until browned, 7-8 minutes. Transfer to a small dish so that it stops cooking. Let cool for 10 minutes.
Meanwhile, beat yolks, corn syrup, and brown sugar with a mixer on medium speed until pale and fluffy, about 2 minutes. Mix in browned butter (with bits), almond extract, cream, and vanilla. Mixture should be thick but pourable. (Okay so mine was not thick at all. Maybe the consistency of thin pancake batter. I was worried about it, but it baked just fine.)
Transfer tart shell onto a baking sheet (don't remove the fluted ring of the tart pan). Pour in filling to reach halfway up side. (I had a couple tablespoons of filling leftover) Bake until crust is golden brown and crisp, and center is set but slightly soft, 40 to 45 minutes. Let cool. (My tart formed a huge bubble while it was baking. Just pop it with a fork if this happens.)
Make the topping: Working in a circle and pressing into filling, top tart with apricots. Garnish with powdered sugar. Whisk cream with a mixer on medium speed until soft peaks form. Whisk in powdered sugar and vanilla. Serve tart chilled and topped with whipped cream.
*I used salted butter. And I still added a tiny pinch of salt to the crust. Because that's how I roll.
**I only bought a pint of cream for this recipe, so for the whipped cream I actually had 2 cups minus 3 tablespoons.